Integration, trust and collaboration: A fascinating new report from McKinsey has valuable insights for both in-house design teams and the wider in-house agency world
Following its 2018 report on the Business Value of Design, McKinsey has now sought to understand what makes for a successful design department. In Redesigning the Design Department it "looked at data from three million designers and design leaders in more than 100,000 design departments, combined with their organizations' financial performance". Researchers also ran "an in-depth survey of over 250 business and design leaders and held interviews with 30 senior executives" for the report.
One of its core findings – and one that may be applied to in-house agencies in general – was that "Instead of trying to 'protect' designers within the design studio, leading Chief Design Officers (CDOs) work with the C-suite to embed designers into cross-functional teams".  McKinsey observes that "The best design teams had designers organized with dotted lines to their design departments (for knowledge sharing, tools, and community) but hard lines to their project team. All project team members – including designers, marketeers, financiers, and project managers – had a common set of financial incentives around time, cost, revenue, and customer satisfaction."
It's important to remember that many of the designers that the report refers to are either digital product designers or UI/UX specialists. They may well benefit from being embedded in product teams but, say, graphic or digital designers working on brand or comms may not benefit similarly. Nevertheless, the report chimes with what Robbie Black at M&S Food told us about what he sees as the benefits of integrating his team with marketing and not being themselves as a standalone agency.
The report quotes one CDO of a global FMCG group saying that embedding designers in product teams allows them to "be seen as peers rather than a subservient service" and that "Designers were more likely to be attracted to and stay longer at businesses where the design team is more integrated into – rather than segregated from – the rest of the business".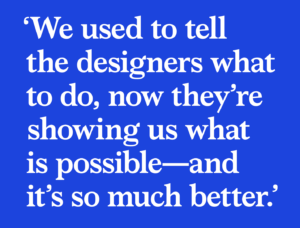 The report also asserts that such an approach encourages "trust-based partnerships between design and the broader business". One interviewee observed that, "We found the central design team was very hierarchical with very little integration. The designers didn't have a role in decision-making and had no accountability for the success of projects they contributed to. But some of the regional businesses had it right. We saw the local design department had 'oxygen' to challenge the business and contribute to decisions, and they were creating great things together—they had won the trust of the business." Crucially, the same CDO recalled a conversation with a regional commercial executive after having transformed their local design team into a more integrated model: "The executive told me, 'We used to tell the designers what to do, now they're showing us what is possible—and it's so much better.'"
Building trust by doing good work only goes so far, another CDO says, because people are constantly changing roles "so you keep having to reteach. The design leader needs to be engaging the CEO, the CFO, and the CHRO [chief human resources officer]. There's no point bothering anyone else until they're on board." This reflects many of our IHALC discussions regarding the importance of continually making the case for the IHA to colleagues and the C-suite.
But there is also an onus on designers – and creatives generally – to understand the business they are in. "While we see successful businesses strive to understand designers better and reach out early to them to develop opportunities, designers, too, have an onus to build bridges and demonstrate their business understanding, not expect others to come to them looking for design enlightenment," the report's authors say. "As one consumer products CDO put it: 'You can't wait for marketing to bring you a design brief and then complain about how poor it is; the designers need to go out there, engage with the business, and play a role in creating the brief for themselves.'" As we have seen at our IHALC events, the exact same applies across the IHA community.
Finally, the report reflects on the changing role of the physical space of the in-house design studio or creative space. With hybrid or entirely remote working becoming commonplace, "the physical studio remains required for other reasons…in companies striving for collaboration across functions, the studio has shifted from a place of refuge for designers to a space that welcomes the entire organization to be part of the design process, which generates serendipitous encounters between designers and nondesigners".