The annual Cella In-House Creative Industry Report is one of the most wide-ranging and thorough sources of information on the current state of the In-House Agency scene in the US. This year, the staffing consultancy surveyed over 350 leaders from creative teams and in-house agencies across companies and not-for-profit organisations of varied sizes and sectors.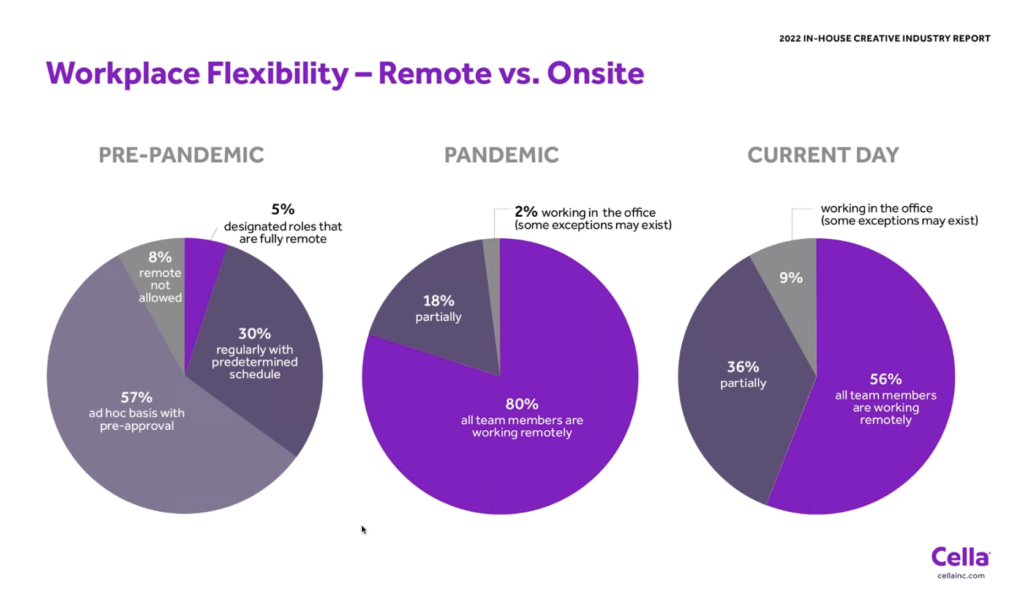 With the US emerging from the pandemic, this was the first Cella report to measure the impact of emerging hybrid working patterns. Just 7% reported that they were back in the office full-time, with 56% fully remote and the rest operating a hybrid model. The good news is that 44% reported that remote working had a positive impact on productivity, with only 4% reporting a negative impact. Which is just as well because US IHAs are busier – 73% report an increase in work, due mainly to either a reset or marcomms strategies and/or a rapid shift to digital commerce.
Which brings us to the first big theme of the report – that US IHAs are resilient and continue to grow. Most IHAs surveyed reported that their headcount was either stable or growing, with 81% planning to hire in 2022. An increase in the use of freelance and/or outsourced services is evidence that "leaders are more open to growth by 'whatever means necessary'," the report's authors claim.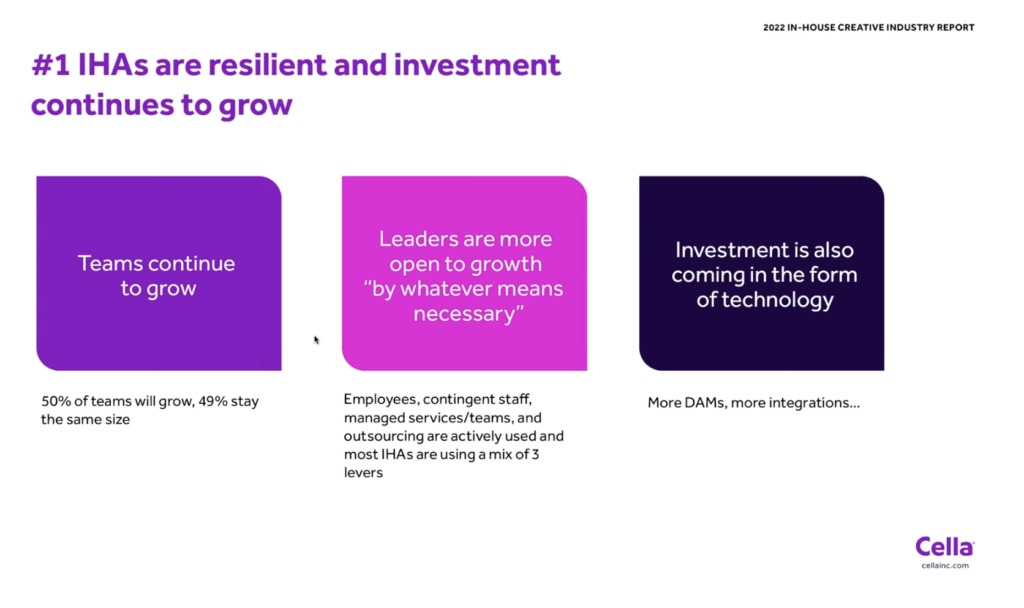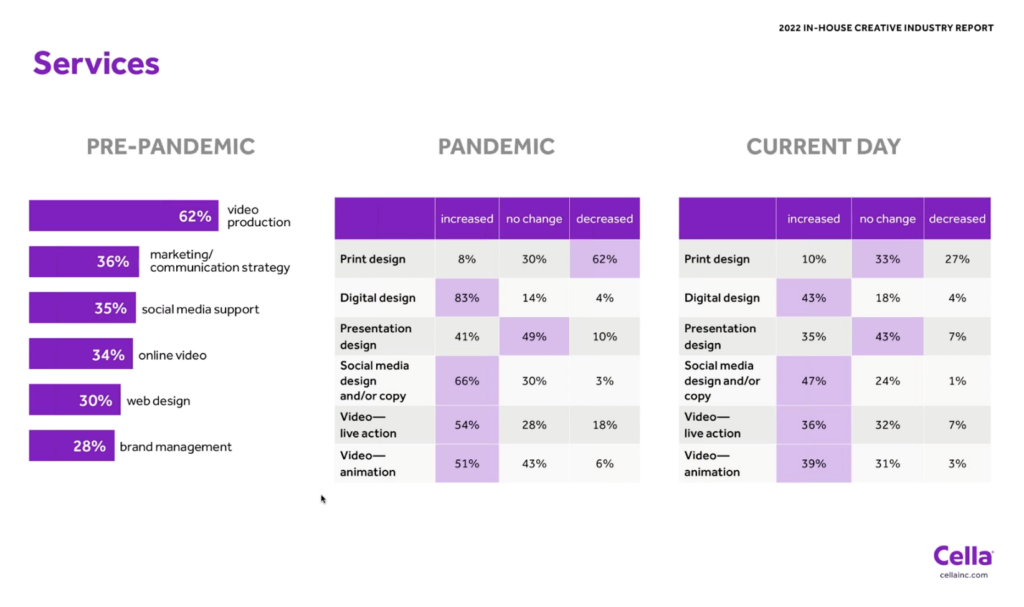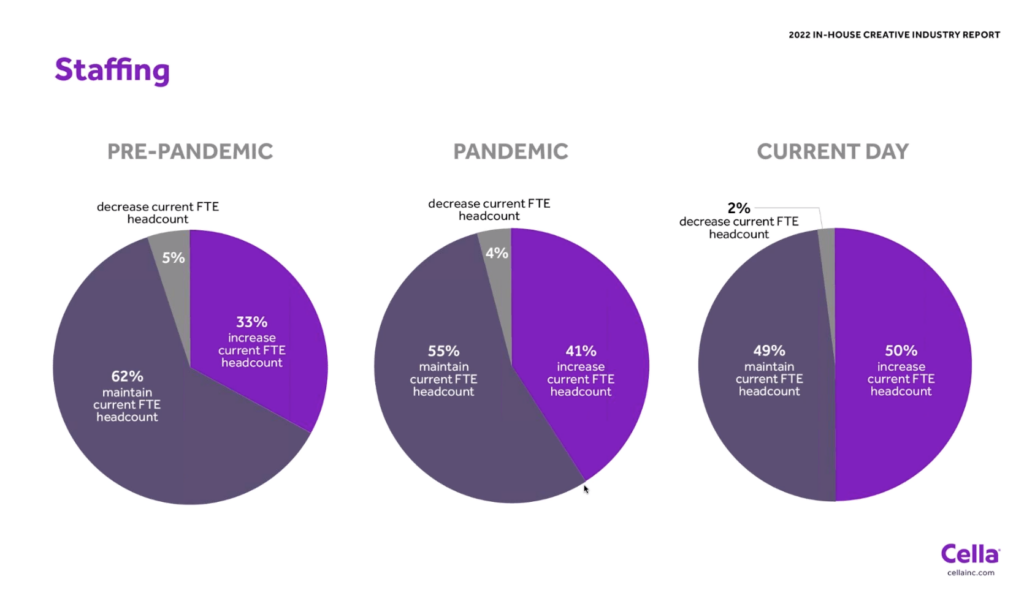 Unsurprisingly, most saw big increases in digital design, social media and video, with significant falls in print design (a persistent trend over a number of years). The most difficult to fill roles were Account Managers, Content Strategists, Digital Designers, Graphic Designers, Motion Designers, and UX Designers.
As well as boosting productivity, remote or flexible working is also having a positive impact on job satisfaction, according to 75% of those surveyed. The report also notes the increasing importance of offering flexible or remote working and support for employees through one-on-ones and other incentives in recruitment.
Perhaps also driven by the shift to hybrid working, the report also noted increasing investments in technology. Over 80% of respondents said that they intended to update their technology in the next 5 years, while 68% now say they use a DAM system for asset management (for the first time ever, this year's results showed a decline in assets being shared via email!) and 87% use a project management tool. Adobe Workfront is the clear market leader in the latter, with 37%, next is MS Sharepoint on 15%, followed by Wrike, Basecamp and others at 10% or less. Fewer respondents said they were dissatisfied with their PM tool "indicating that companies are using the technology more, and more effectively," according to the authors.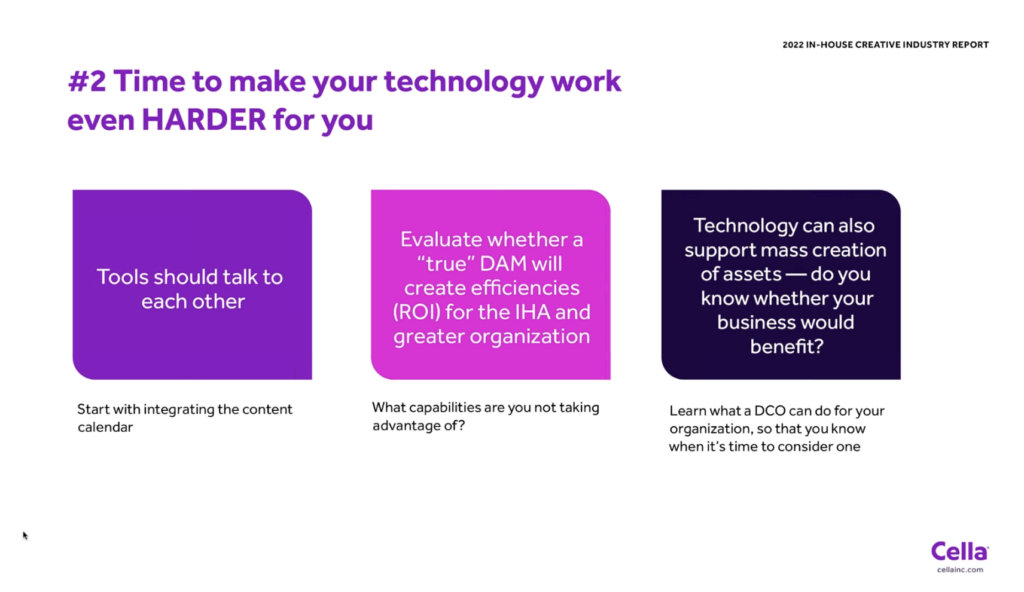 The authors also stress the need for technology systems to work harder for teams. Integration, particularly between the marketing content calendar and IHA project management systems is key, they say, drastically reducing ad hoc requests and making resource planning easier.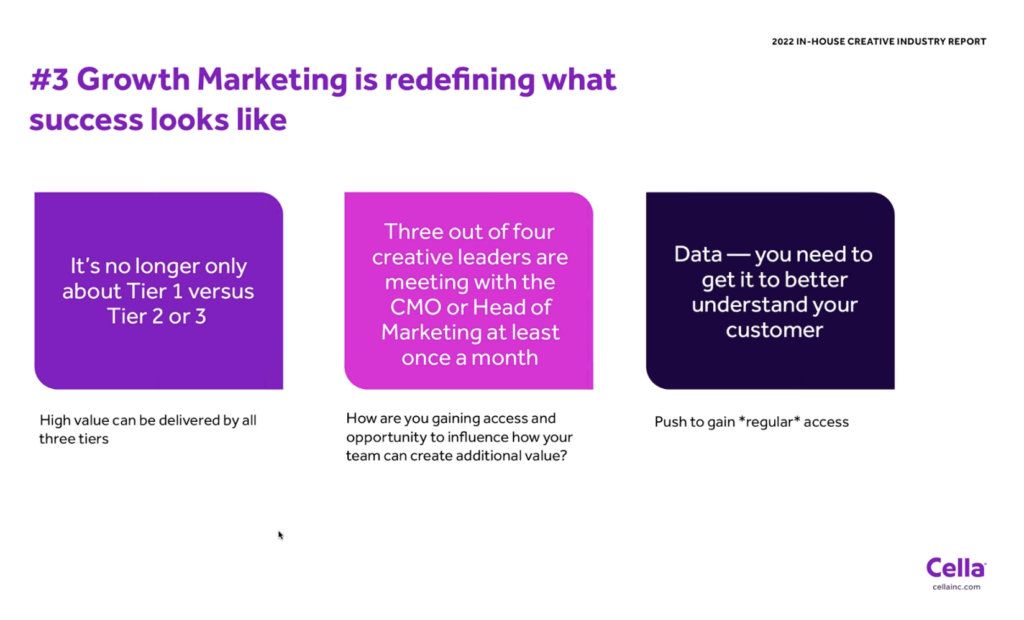 The third and final big take-away for the authors is that so-called "Growth Marketing is becoming the foundation of what's being requested from IHAs". The IHA, they argue, is in a better position to support a shift by marketers to Growth Marketing, as it benefits from institutional knowledge and access to data. As marketers seek to be more customer-centric, testing, optimising and personalising the customer experience, IHAs are being asked to play a strategic role. In order to do this, they are in more regular contact with their CMOs, but they also need better access to data – only 50% of respondents said they have access to customer interaction data and just 37% are tracking or revising customer sentiment data.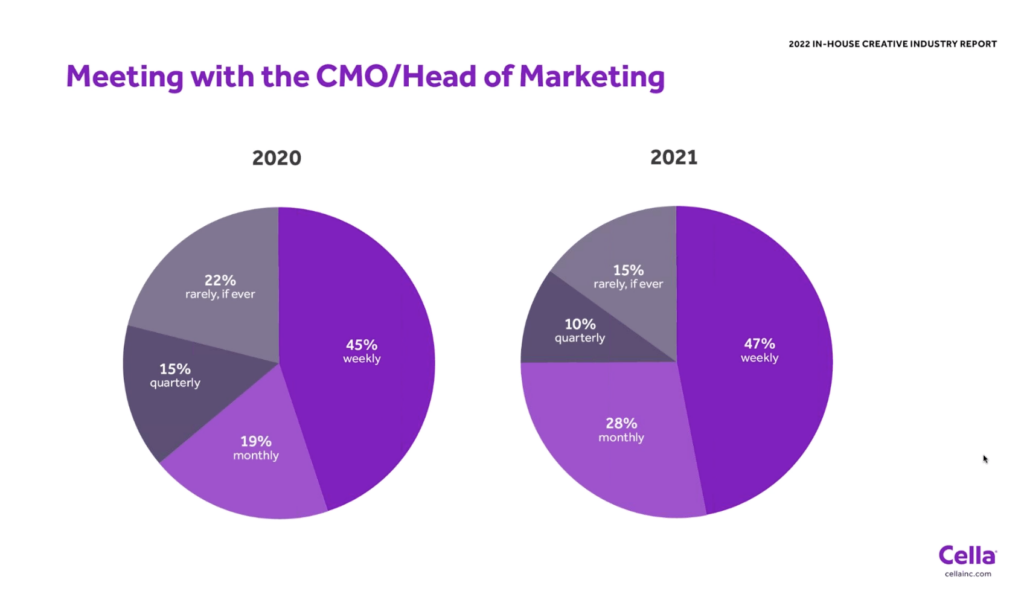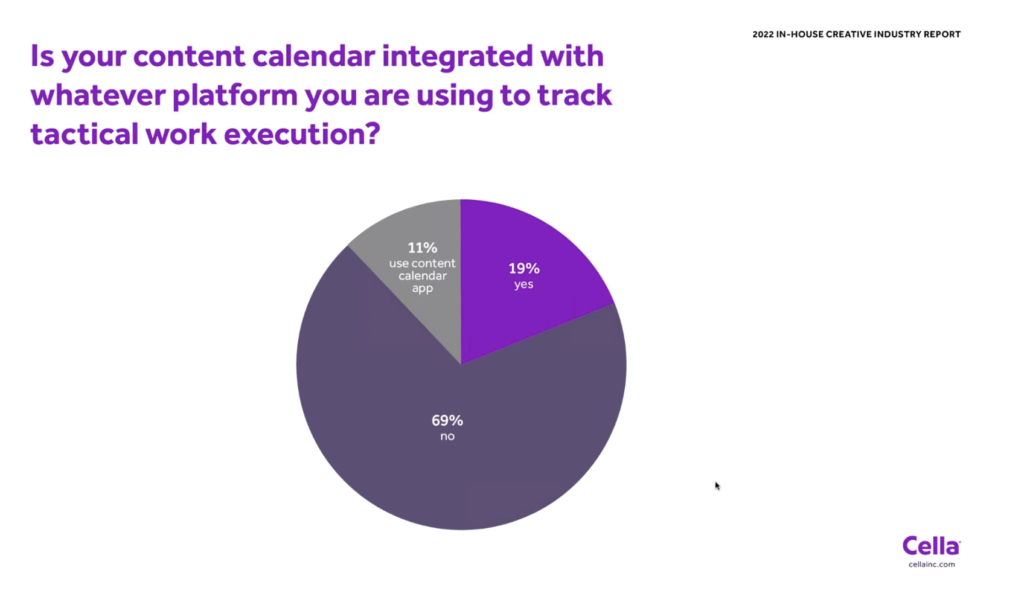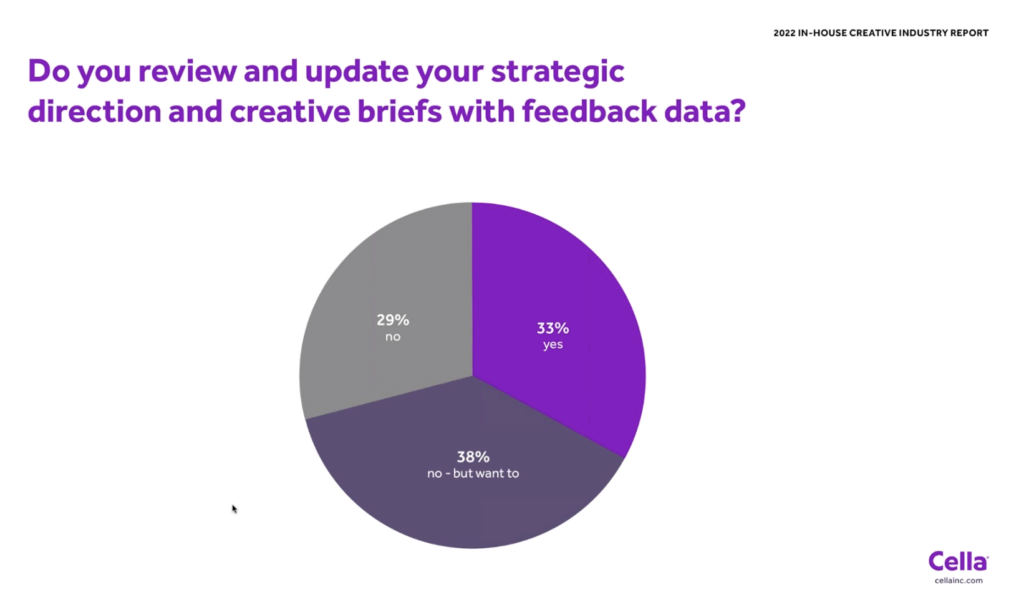 Overall, it's a positive picture of growth and investment in IHAs, with the majority continuing "on the path to strategic support rather than just the production of assets," according to the authors.
You can download the Cella 2022 In-House Creative Industry Report here, where you will also find a recording of a webinar from the report's authors discussing key themes