Picture the scene: you're just getting into a session playing your favourite game online when your shoot-em-up enjoyment is ruined by the sound of another gamer noisily crunching their Doritos right into your headphones.
Now, thanks to PepsiCo's in-house agency Sips & Bites, gamers need no longer be disturbed by inconsiderate munching. Deploying the power of AI, Sips & Bites have created Doritos Silent' – powered by next-level 'crunch cancellation' software. Gamers just need to download the application (for WindowsPC users) from the Doritos Silent website and it will ingeniously filter out Doritos crunching in real time.
Doritos collaborated with software developers, Smooth Technology, to create the app. Taking half a year to develop, the process involved the technical analysis of more than 5,000 thousand different Doritos crunch sounds to create a database. From these recordings, Doritos Crunch Cancellation technology then utilises AI learning audio driver technology to allow gamers to enjoy their Doritos without interrupting their playing experience.
Matt Watson, Executive Creative Director for Sips & Bites, at PepsiCo, says "What we loved is how the concept is so intriguing to people; how on earth can you silence the iconic crunch of a Doritos? It's this immediate curiosity that was the spark behind our big idea as we teased a new Doritos Silent "product".  People immediately asked "what?" and "how?" and the disruptive image of an actual Dorito in an ear escalated the buzz, before we revealed it to be the world's first AI Augmented Silent Snack. By silencing one of our biggest assets, we made it even louder."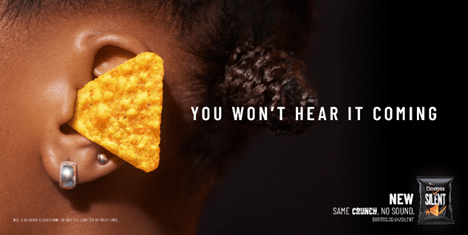 Agency: Sips & Bites @ Pepsico
Nancy Croix – Managing Director – Sips & Bites / PepsiCo
Matt Watson – Executive Creative Director – Sips & Bites / PepsiCo
Chris Lovell – Senior Creative – Sips & Bites / PepsiCo
Jon Beach – Senior Creative – Sips & Bites / PepsiCo
Tom McMahon – Senior Creative – Sips & Bites / PepsiCo
Alex Milic – Senior Creative – Sips & Bites / PepsiCo
Carmen DeWitt – Executive Producer – Sips & Bites / PepsiCo
Keir Simons – Business Director – Sips & Bites / PepsiCo
Jo Delaney – Strategy Director – Sips & Bites / PepsiCo
Ade Hopkins – Designer – Sips & Bites / PepsiCo
Client: Doritos @ PepsiCo
Fiona Tomlin – Chief Marketing Officer
Lee-Teng Houston – Marketing Director
Karina Stoltz – Senior Brand Manager
Harry Drakes – Total Connections Planning Lead
Aleks Sikorska- Total Connections Planning Manager
Marina Felippe – Insights Manager
Director: Josh Cohen @josh_cohen
Director of Photography: Pieter Snyman @pieter_filmstills
Production Company: OB42 @ob42.uk
Executive Producer: Sam Holmes @kvlto
Producer: Jack Bradley @jack.bradley
Line Producer: Marija Djikic @marija.djikic
Casting Director : Emma Garrett CDG @emmagarrettcasting
Casting Associate : Anna Lydon @annalydon
Production Manager: Wojciech Czarkowski @voi.tek
Service Production Company: Shishmish Films @shishmish.films
Local Producer: Vladimir Dudar @mattanko
Local Production Assistant: Marija Kalanj @kalanjeva
1st Assistant Director: Rados Vucic
Production Designer: Goran Joksimovic @yoxatt
Art Director: Tijana Joksimovic
Costume Designer: Jelena Djordjevic @niobida
MU Artist: Marija Stosic @marijastosicmua
Hair Stylist: Zvezdana @zvezdanahair
Gaffer: Dragan Sapic @sapalights_rental
Key Grip: Nikola Bojic @bojkee86
Sound: Nikola Radivojevic @nikolaradivojevic
SFX: Danilo Dudic
Editor: Chris Walker @chriswalker.tv
Edit house: MSE @mes.tv
VFX: Harry Davidson @davidsonhrj
Design and animation: Dexter George @dextergeorge
Grade: Tim Smith @timotheous
Grade producer: Charlie Morris @charlesedmorris
Grade company: No.8 @no8colour
Sound Design: Jake Ashewell @jake.ashwell
Post-Sound House: 750 MPH @750_mph
Music composer: Joe Davies
DORITOS CREDIT LIST – LILLIE EIGER
Production Company: OB42 @ob42.uk
EP: Sam Holmes @kvlto & Marija Djikic @marija.djikic
Director: Lillie Eiger @lillieeiger
Producer: Wojciech Czarkowski @voi.tek
Director of Photography: Strahinja Pavlovic @cine_strahinja
Lighting Assistant: Richard Bartram @richbartram
Cast: Iva Kosovac & Cheriti Nwangi
Agency: Pepsico
Executive Creative Director: Matthew Watson
Art Director: Chris Lovell
Copywriter: Jonathan Beach
Agency Producer: Carmen De Witt
Account Director: Keir Simons
Casting Director : Emma Garrett CDG @emmagarrettcasting
Casting Associate : Anna Lydon @annalydon
Service Production Company: Shishmish Films @shishmish.films
Local Producer: Vladimir Dudar @mattanko
Local Production Assistant: Marija Kalanj @kalanjeva
1st Assistant Director: Rados Vucic
2nd Assistant Director: Masa Miljkovic
Digi Op: Nenad Aksic @nenadaksic
Production Designer: Goran Joksimovic @yoxatt
Art Director: Tijana Joksimovic
Food Stylist: Dejan Sutanovac @food_stylist_dejan_sutanovac
Costume Designer: Jelena Djordjevic @niobida
MU Artist: Marija Stosic @marijastosicmua
Hair Stylist: Zvezdana @zvezdanahair
Grip: Marko Deljanin @deljanin_marko
Spark: Nikolic Nemanja
Editor: Rebecca Spaven @beccaspaven
Edit House: Marshall Street Editors @mse.tv
VFX: Harry Davidson @davidsonhrj
Grade: Tim Smith @timotheous
Grade Producer: Charlie Morris @charlesedmorris
Grade House: No.8 @no8colour
Sound Design: Jake Ashewell @jake.ashwell
Post-Sound House: 750 MPH @750_mph